Catania/Sicilia
Catania - The city at the foot of Mount Etna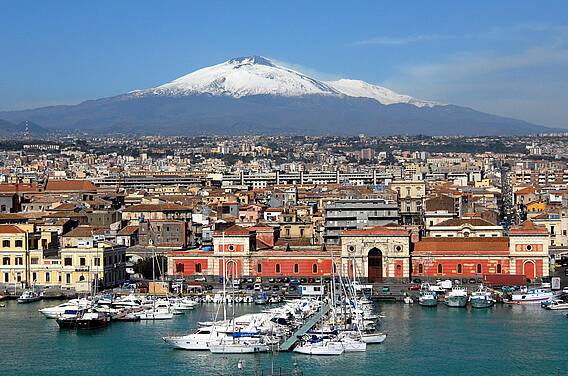 The coastal town of Catania is a popular holiday resort at the foot of the largest and most active volcano in Europe. The second largest city in Sicily after Palermo, offers many attractions such as the Elephant Fountain. It is said that a mysterious ancient elephant said to possess magic powers is now the symbol of a Sicilian city. Also The Cathedral of Sant'Agata which is located just on the Piazza del Duomo. It shines in the most beautiful Sicilian Baroque and contains the tomb of Vincenzo Bellini. The Roman Amphitheatre has a elliptical shape used for events and performances such as gladiator fights and the popular Naumachie.
The Park of Etna
Parco dell'Etna - If you want to experience and enjoy the natural treasures of the Mount Etna very close, you will love the natural parks of this region. Extraordinary cimbination of the volcaninc environment and snowy landscapes will left everyone speechless.
Basilica Cattedrale Sant'Agata
The Cathedral, the mother church of the diocese, derives its name from the chair because it is home of the 'Archbishop chair where he "teaches, celebrates and rules." It is certainly a great artistic monument interest, but first of all it is a "place of prayer", linked to the presence of God in the Eucharistic species.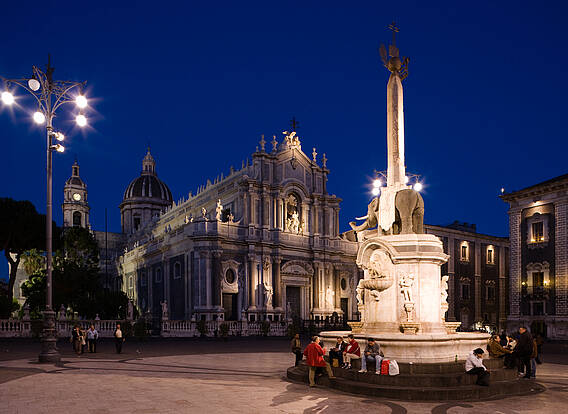 Monastero dei Benedettini
The Benedictine Monastery "Monastero dei Benedettini" is located in the center of Catania and it happend to be a gem of its kind in Europe. The monastery is on the UNESCO World Heritage List and is an impressive piece of architecture. It houses several styles and it is an interesting place with many remarkable structures such as: The Marble Monastery, The Red Hall and The Basilica of St. Nicolo.
Piazza del Duomo
As the main square in Catania, the Piazza Del Duomo has a lot of attractions to offer. This central square in the heart of the city is located close to the harbor area and it is also known as a regular meeting place for the locals beside being a great touristic spot.
In the middle of the square are the impressive Fontana Dell'Elefante, the Fontana Dell'Amenano, the Cathedral of Catania and the Palazzo degli Elefanti - all beautiful architectural elements. There are also a number of cafes and restaurants with ideally located outdoor seating so you can enjoy the beautiful Sicilian weather with a drink. Piazza Del Duomo is a great place to start a walking tour of Catania. From here you are in close proximity to many of the main attractions.