Pets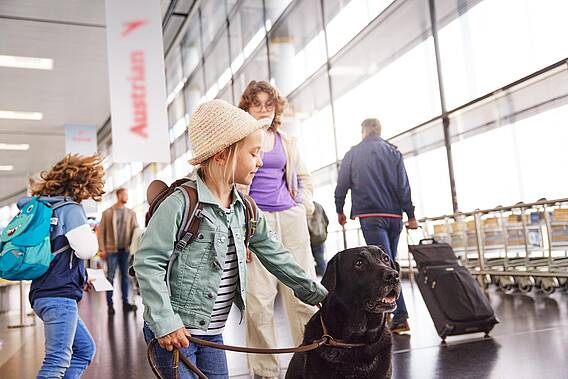 The safety and well-being of your pet during our flights is of great concern to us.
Please be sure to inform yourself in advance and before booking your flight about the import and export regulations valid for your pet in the country of departure, transit and arrival, for example at the embassy.
Please also ask your veterinarian about the valid animal welfare regulations. Obtain all the necessary travel documents for your pet so that nothing stands in the way of the trip.
Requirements for transport
Please understand that we transport only dogs and cats in good health, exclusively with the animal owner on the same flight.
The following prerequisites for transport must be fulfilled:
Young animals (weaned) with a minimum age of 12 weeks
A maximum of two grown (adult) animals with a max. weight of 14 kg (30 lbs) per animal, in a suitable transport container
Brachycephalic breeds
Special requirements (e.g. a special crate or container) apply to the transportation of breeds of dogs classified as fighting dogs and brachycephalic (snub/pug-nosed) dogs.
Please contact specialcases@austrian.com for further information.
Dogs and cats, which belong to the dull-nosed breeds, have anatomically conditioned narrowed respiratory tracts and therefore respiratory distress. The stress caused by transport or high temperatures at departure, transfer or destination airports can lead to circulatory problems and thus to increased shortness of breath. Your animal may suffer serious health damage or even die during the journey.
Therefore, the transport of these breeds in the hold will no longer be authorized from 1 January 2020.
Among the endangered dog breeds belong:
Monkey pinscher
Bull Dog (all breeds except American Bull Dog)
Pug (all breeds)
American Pit Bull Terrier
American Staffordshire Terrier
Boston Terrier
pugilists
Brussels Grifffin
Bull Mastiff
bull terrier
Chow Chow
English Toy Spaniel
Japanese Chin
Japanese Spaniel
Lhaso Apso
Pekingese
Pit Bull
Shar
Peo
Shih Tzu
Staffordshire Bull Terrier
American Bully (new as of January 2022)
Among the endangered cat breeds belong:
British shorthaired cat
Exotic Shorthair
Himalaya Cat
Persian Cat
Scottish folding ear cat
The restrictions also apply to hybrids of the breeds mentioned.
Small dogs and cats in the cabin
It is possible to bring your dog or cat with you on board. In addition, the following prerequisites must be fulfilled in order to transport your pet in the passenger cabin:
However, all pets have to be placed in a suitable and leak-proof container.
The container (incl. your pet) must not exceed a max. weight of 8 kg (17 lbs.).
The container, in order to be easily stowed under your seat, must not exceed the dimensions of 55 x 40 x 23 cm in size.
Larger animals in the cargo hold
Dogs and cats for which there is no space in the passenger cabin may be carried in the cargo hold, if necessary, subject to compliance with the relevant conditions of carriage. Please inform us of the size and weight of the pet-friendly carrying container you are providing at the time of booking. The container must comply with IATA (International Air Transport Association) regulations. We will check the availability of space and the loading options in the aircraft.
A maximum of two pets, who must be accustomed to one another, with a maximum individual weight of 14 kg per animal may be accommodated in a single carrying container.
Austrian reserves the right to check the condition of the carrying container and the pet's behaviour at check-in to ensure it is carried safely and securely throughout the entire journey
Necessary documents
In order to travel with pets you must always carry the following documents with you throughout the entire journey:
Transit/immigration papers and documentation
Pet health certificate (EU pet passport) issued by a veterinarian
Pet vaccination certificates
Applicable rates for the transport of pets
The basis for our applicable rate concept builds the weight and size of the animal, the transport container, as well as the applicable flight route. We distinguish between three different categories: "Small", "Medium", and "Large".
| Cate­gory | Type of trans­port | Weight, Size, Trans­port container (length, width, depth) | Price |
| --- | --- | --- | --- |
| Small | In cabin | Weight: max. 8 kg (incl. pet), Size: max. 55 x 40 x 23 cm | EUR 50,- |
| Middle | In cargo hold | max. 60 x 45 x 40 cm | EUR 100,- |
| Big | In cargo hold | Dimen­sions exceeding 60 x 45 x 40 cm | EUR 150,- |
The rates quoted are applicable per animal and flight segment within Europe and third countries.
A ticket service fee will be charged in case of payment at the airport. Charges may vary, depending on the airport of departure. For departures from Austria a service charge of EUR 15, - per service and leg is applicable.
Different rules and tariffs may apply on scheduled flights.
Required container specifications
The animal must be able to stand upright and have sufficient freedom to move
Water and food containers must be provided by the owner
The container must be leak-proof and equipped with absorbent material
There must be breathing holes (vents) on at least three sides of the container
The container has to be stable and resistant to bursting
Austrian Airlines reserves the right to check the condition of the transport container and the behavior of the animal at check-in to ensure safe transport throughout the entire journey.
Registering pets
Please note that pets must always be registered 48h before departure in order to check eligibility and potential capacity restrictions. .
For the required registration, please contact:
Service dogs (guide dogs, signaling dogs)
If all safety requirements are met, Austrian Airlines allows service dogs free of charge in the cabin. Please register your service animal at the time of booking.