Accessible travel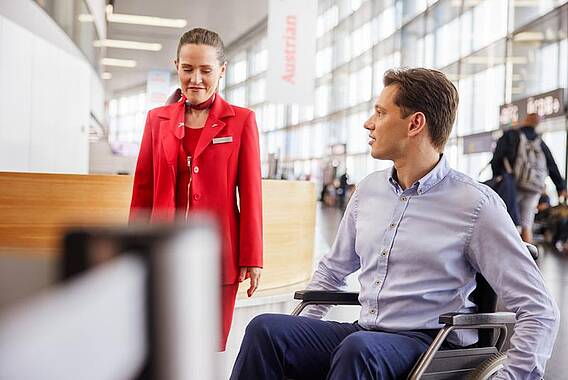 We have developed a range of special services for people with disabilities and passengers requiring assistance to comply with EU Regulation 1107/06 regarding the rights of disabled passengers and those with restricted mobility when travelling by air.
Passengers with a wheelchair and other mobility devices and aids
Please register your support requirements and, if necessary, the mobility aids you will be taking with you including dimensions, weight and special features (for example folding, sports wheelchair, e-wheelchair) up to 48 hours before departure:
via e-mail to charter.myholiday@austrian.com
by telephone on +43 5 1766 1000
Carrying up to two mobility aids per passenger with restricted mobility (wheelchair, crutches or any other type of walking aid) is free of charge with Austrian.
Please note
In order to guarantee a smooth process, we require the following information in particular when you apply by telephone:
Degree of mobility restriction
Please let us know in advance to what degree you are restricted in your freedom of movement. Three international wheelchair classifications will help you classify the level of your disability correctly.
| | |
| --- | --- |
| Wheelchair category | Description |
| WCHS - wheelchair steps | The passenger cannot climb stairs, but can walk short distances on foot. |
| WCHR – wheelchair ramp | The passenger only needs the wheelchair to cover longer distances on foot; he/she can climb stairs independently. |
| WCHC – wheelchair cabin seat | The passenger always needs a wheelchair and cannot move in the cabin without external help – passenger will bring their own wheelchair. |
Weight and dimensions
There are maximum dimensions and weights on some short and medium-haul flights. If your wheelchair exceeds the following figures, please inform our staff in the Service Centre of your exact flight connection.
Dimensions: max. 130 x 85 x 70 cm
Weight: max. 80 kg
Services
At the airport
Our trained staff and contract partners are available to you at all airports. We offer a free wheelchair service on departure and arrival.

Please check in at the check-in counter no later than 60 minutes before departure – this also applies if you have already checked in online – so we can ensure an ideal service. You can use your folding wheelchair right up to the departure gate. Your wheelchair will be given a "Delivery at aircraft" bag tag at check-in. It is loaded directly at the aircraft. There may be restrictions on battery-powered wheelchairs for safety reasons.

There are different transport options at the airport for passengers with restricted mobility – depending on local conditions. You may have to change wheelchair to get from the airport to the aircraft. Please note that step-free boarding/disembarkation from the aircraft cannot be guaranteed at all the airports that we serve. The aircraft will be parked on the apron and boarding/disembarking is conducted using boarding stairs.
On board
At the destination airport
Almost all seats have moveable armrests which make access to your seat easier.
If you wish to attach a seat pan to the seat, we must have it tested in advance for safety reasons. In this case, please contact our Special Cases Desk. Send an email to specialcases@austrian.com.
As a general rule, you are free to choose the seat that best meets your requirements. Due to safety regulations, there may be restrictions, so that we cannot, for example, offer seats at the emergency exit.
When you arrive at your destination airport, you will receive your wheelchair immediately after disembarkation or on the baggage carousel.
Due to bottlenecks, there may be short delays in retrieving your wheelchair at busy times. The local airport wheelchair service will be waiting for you on arrival of the aircraft and will assist you on your way.
Passengers with impaired sensory perception
There are no restrictions on our flights for passengers with impaired hearing or sight. You can travel without a medical certificate. And if you like, we offer you a courtesy assistance service at the airport.
Passengers with cognitive or intellectual disabilities
The routes through airports are often long and complicated and passengers may have difficulty finding their way around and communicating. Security and customs controls can also cause stress.
During the flight, passengers must follow the safety instructions given by the crew.
The coping abilities of a person with a cognitive impairment should not be overestimated. In the case of specific impairments which lead to confusion or disorientation (e.g. Alzheimer's), there is a risk that the passenger will not pay attention to the safety instructions issued by the flight attendants. If the passenger goes on board without assistance, he/she may lose orientation at the airport and could get into an increasing state of confusion. If this is a risk for the passenger, we strongly recommend that someone travel with them.
Assistance dogs
If you intend to take your trained assistance dog with you on your journey, please let us know when you book your flight. Certain requirements must be fulfilled in order for you to take your dog with you into the cabin.
Many countries have strict vaccination regulations for animals. If documentation or the required certificates are missing, the destination country may refuse your dog entry. In some countries, there are import restrictions for animals, assistance dogs included. Please check this in advance.
Handicapped equipment on board
The majority of our long-haul aircraft and our Airbus fleet are equipped with disabled toilets. On Boeing 777 and 767 aircraft, an onboard wheelchair is available as standard so that you can get to and from the lavatory easily.
If you let us know at least 48 hours before departure, we can also provide you with an onboard wheelchair on our other aircraft.
Our cabin staff will be happy to help:
when preparing food
when using the "onboard wheelchair" to access the lavatory
for people with restricted mobility to access the toilet
when stowing hand luggage and aids
communicating with passengers who are visually or hearing impaired
Do you need further support in addition to this? You then need a companion who must be at least 18 years old.
Contact
Do you have any questions or require support? You can contact our Special Cases Desk by e-mail on specialcases@austrian.com .