Service on Board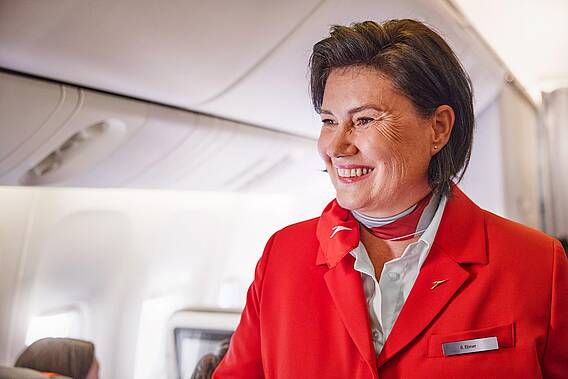 On board Austrian Holidays charter flights (recognizable by the 4-digit flight number) you can enjoy a special culinary experience - prepared by our top caterer DO & CO. A large selection of exquisite products and regional treats from Austria that can be adapted entirely to your wishes.
Austrian Melangerie
Our Austrian Melangerie offers you a wide selection of Austrian foods, snacks and drinks on short and medium-haul routes in Economy Class. You can adapt the onboard service as you wish, from small snacks to the classic Wiener schnitzel. Just as you would in a coffee house, wine tavern or typical Viennese pub. Only right above the clouds!
You can either choose from our menu online in advance or directly on board, and pay our flight crew by card or use your miles.
Flight time
Catering offer
50 - 79 Min.
Austrian Melangerie
(only cold fresh products + beverages)
80 - 179 Min.
Austrian Melangerie
(entire assortment)
>179 Min.
Hot panini incl. free beverages
Austrian Melangerie PreOrder
For bookings on our charter flights that were booked via a tour operator and do not have an e-ticket number, the Austrian Melangerie PreOrder offer (pre-ordering of products from the Austrian Melangerie menu up to 48 hours before departure) is unfortunately not yet available.
Special meals
Whether you have a special dietary requirement for health reasons or religious beliefs, we have the right meal for you.

Austrian Holidays offers you a choice of 13 different special menus, which can be booked free of charge in Economy Class on all flights with a flight time of 03:00 hours or more.

As we always prepare our menus fresh, your order must be placed at least 48 hours before departure.
For more information, please refer to our special meal section .