Carry-on Baggage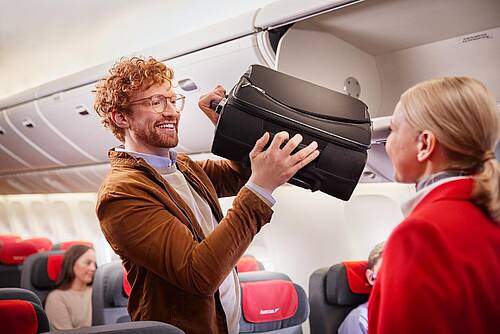 Carry-on baggage rules and regulations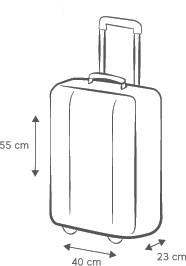 Please note the following rules regarding the transport of carry-on baggage:
Piece(s): 1 piece of carry-on baggage
Dimension: max. 55 x 40 x 23 cm
Weight: max. 8 kg (17 lbs)
Should the carry-on baggage exceed the stipulated carry-on baggage allowance, it is to be considered either free baggage allowance , excess baggage or sports equipment .
At the airport you will find luggage frames to check your carry-on baggage. Larger and/or heavier luggage can and will be checked in by our check-in staff.
In addition to your carry-on baggage you may take one personal item with a maximum size of 40 x 30 x 10 cm into the passenger cabin. For example a lady's handbag or a laptop bag or a shoulder-strapped bag.
Exceptions and special rules
Please note that exceptions might apply depending on the type of aircraft used and/or the safety requirements of national authorities.
Safety Regulations
Please pay attention to the following regulations, otherwise your liquids can and will be confiscated over the course of the airport security check:
Liquids may only be carried in a transparent, re-sealable plastic bag ("zip-loc" bags).
Containers containing liquids, gels and sprays must not exceed a maximum of 100 ml. The maximum printed volume on the container, not the actual content, applies.
Place all individual containers in one transparent, re-sealable plastic bag with a maximum capacity of 1 liter (33 oz.).
Only one transparent bag of liquids per person is allowed. Liquids must be shown separately over the course of the security check
The following items are not restricted by the above mentioned safety regulations regarding the transport of liquid containers:
Baby food
Medical specialty food
Medication