Santorin/Thira
Santorini - crater landscape & longest sunshine duration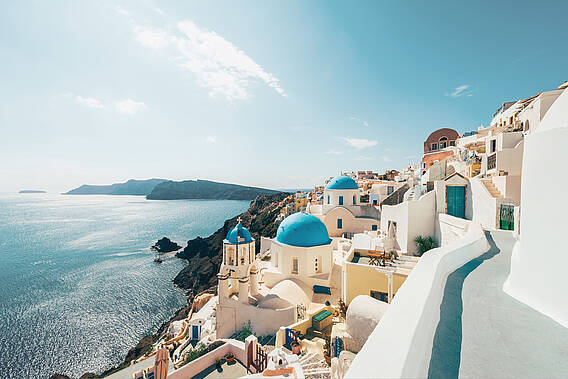 The Greek island of Santorini is the southernmost island of the Cyclades and has the longest sunshine duration in Greece. The spectacular island was created by volcanic eruptions and impresses above all by its enchanting crater landscape.
Our excursion tips
Probably the most famous island in Greece and according to surveys in the top 10 list of the most popular holiday destinations on the bucket list of travellers, bloggers & influencers. All the Cycladic islands are beautiful, but Santorini, the volcanic island, is unique and a must see. Rumor has it that Atlantis was here!

The capital Fyra is extremely picturesque with numerous winding streets. You will find beautiful little boutique hotels on Kaldera (volcano crater), look. You can also enjoy this view from one of the many taverns and restaurants.
What to eat and what to do in Santorini?
Santorini is an absolute traveller's delight! You will find here not only picturesque houses, beautiful villages, world's best known sunsets but also a plate of colourful and amazing food! One of those lovely places is the Pyrgos Restaurant that offers plenty of the local delicacies, like for example the famous puree from Santorini, which served with the local sweet wine "Vinzanto" makes your taste tubes explode wanting more! Also on the menu, the local dish tomato gefthedes, which are a kind of tomato fritters, saganaki fried cheese covered in honey and of course moussaka!
The whole island has countless restaurants, taverns and bars serving typical Greek dishes and excellent local and Greek wines. Shopping enthusiasts will also find something for themselves, numerous boutiques, jewelry stores and many more. It is also worth spending some time to see all the monuments that are on the island.
The unique beauty of Santorini is based on its geological history, to discover the island you can put a boar trip on your bucket list, like for example to the volcano crater Nea kameni. There is a possibility of a daily excursion with small boats from Athinios port to Kaldera Palaia and Nea kameni.