Mahon/Menorca
Menorca - The biosphere reserve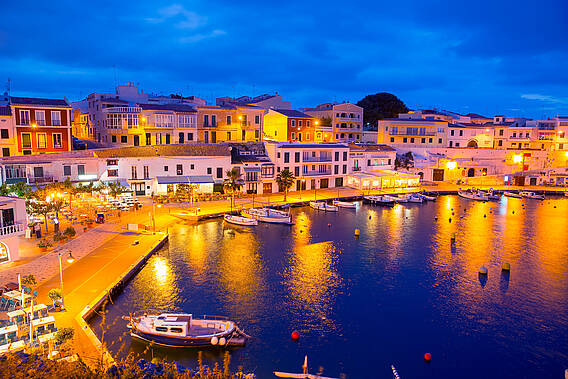 Menorca is beautiful. Gentle, unspoilt, friendly and luminous. UNESCO realised this in 1993 and declared it a Biosphere Reserve.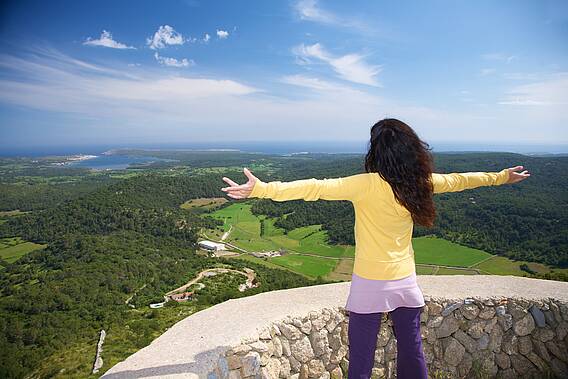 So, this 702 km2 chunk of Mediterranean soil finally received recognition for all the work done by the people who have been living on it for thousands of years, for their labour of love to protect its essence, its laidback pace and its landscape. Work that, admittedly, they did gladly, because when you love something you don't mind making the effort to look after it, and the people of Menorca love their homeland. They love its ravines, its beaches and cliffs, its forests and its countryside. They love their traditions, their festivals, their culture and the myriad flavours of their cuisine. They love the sea because it brought all the civilisations who settled on the island throughout history.
Northern Beaches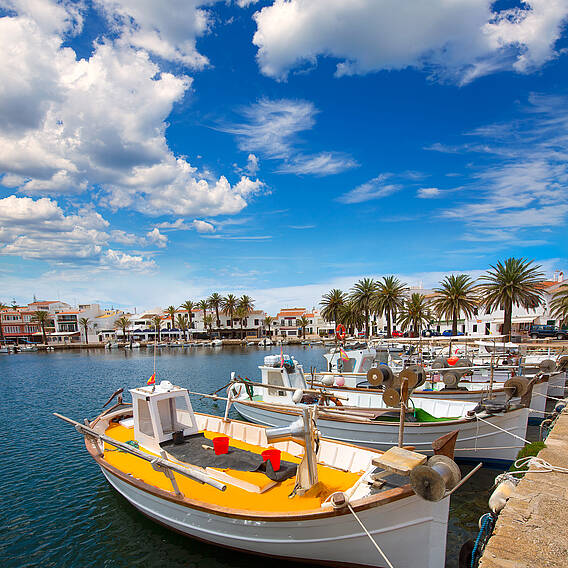 These often less crowded beaches are set in a stunning landscape. Nestled between slate and red clay rock formations are lovely golden sandy beaches. In the north, the sea takes on tones that vary from deep blue to seagreen. The rocky seabed is a fantastic place for snorkelling, as the area is inhabited by hundreds of fish and friendly cormorants. Of the popular beaches in the north, Cala Morell (the perfect place for snorkelling) and Arenal d'en Castell are the best for their spectacular locations. But if you want to feel like the only sunbathers in Paradise, then the inviting waters at unspoilt beaches like Cala Tortuga, Cala Pilar, Cavallería and Pregonda are definitely for you.
CALA DEL PILAR - If someone told us that the sand on this beach was made of gold dust, we'd believe them. To reach this enchanted cove hidden away between cliff walls, you need to walk about 30 minutes, first through a forest of holm oak and then across a spectacular set of dunes. Your reward: a swim in an utterly pristine setting.
PLAYAS DE CAVALLERÍA - Getting to these beaches is much easier. Cavallería is an idyllic beach, with warm sand and moody landscapes, especially at dusk when the rocks surrounding this great expanse of sand explode in a riot of coppery hues. If you mix some seawater with the clay in these rocks, you can feel the soothing effects of natural clay on your skin.
Southern Beaches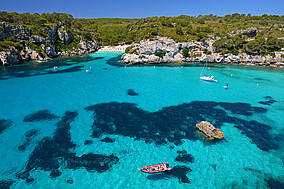 If we asked you to close your eyes and imagine an idyllic beach... you would see Macarella (but with palm trees) in your mind's eye, even if you've never been to Menorca before. Because if by idyllic beach you mean a cove with super-fine white sand, turquoise waters that are so crystal clear that even in the deepest parts you can see the bottom as if it were in the palm of your hand, then Macarella is that beach. Well, apart from Mitjana, Turqueta, Son Bou, Binidalí, Son Saura, Trebalúger... and that's only the unspoilt coves, because resort beaches are just as beautiful, like Cala Galdana or Punta Prima to name just a couple of examples.
CALA GALDANA & MACARELLA - One of the island's lushest and most exuberant ravines opens out and a small stream flows into a simply spectacular cove: Cala Galdana, surrounded by typically Mediterranean pine forests. You can take the section of the "Camí de Cavalls" running through this forest to get to the pristine beach of Macarella and enjoy all you've ever wanted from a beach.
BINIDALÍ - This tantalising morsel of sea and sand is absolutely exquisite. It's worth visiting first thing in the morning, when the sea is fresh and new and the sand still feels cool from the night before. It's true, happiness can be found just around the corner.
The Menorca Landscape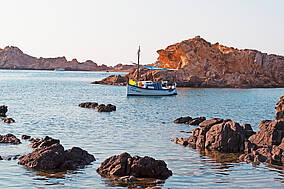 Menorca is beautiful, special. Changeable and serene. Its landscape, permanently bathed in the coveted Mediterranean light, can be mesmerisingly arid in some places, like the incredible lunar landscape of Favàritx, or lush and exuberant, like Algaiarens in the spring. The island also has a rural, human and traditional landscape, like the pastures at scything time, as well as another pristine one that smells of the sea, like the unspoilt coves south of Ciutadella. Stitching all these fragments of island together from north to south, from west to east, is the paret seca (dry stone wall). These low walls, built by Menorca's people since time immemorial using a technique passed down from generation to generation, are a distinctive feature of the Menorca countryside.
Information provided thanks to kind cooperation with: