Kalamata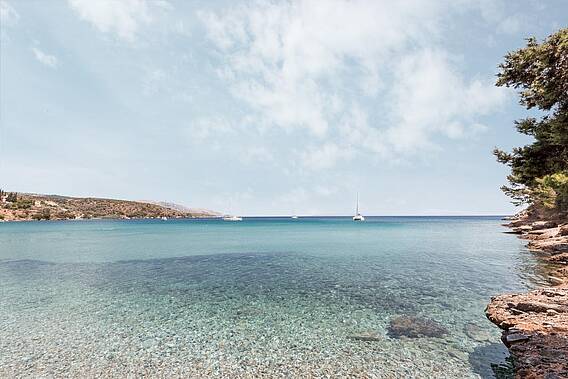 Kalamata is the well-known capital and central port of Messinia, located on the site of ancient Pharai, about 238 km from Athens and 140 km from Patras. Overlooking the Ionian Sea, Kalamata is the perfect destination for those looking to explore the Messinia region of the Peloponnese. Surrounded by various archaeological excavations, ancient monuments, temples, valleys, coasts and sand dunes, right at the foot of the majestic and impressive Taygetos Mountains.
The center and the heart of the city is the legendary Isabeau Castle, where many international dance festivals takes place. The castle, which offers an exceptional panoramic view of the city is located on the site of the Pharai Acropolis. It was built by William Villehardouin in the 13th century and then renovated by the Venetians and Turks. Tourist attractions in the city center include the Greek Modern Art Gallery with paintings and sculptures. The Benakeion Archaeological Museum in a neoclassical building in the old town with finds from the Bronze Age to the Roman Age. Another great museum, that is definitely worth visiting, is the Museum of Folklore and History, housed in the Kiriakou Palace.
In addition to the cultural and historical offer, Kalamata has some beautiful natural areas and beaches. The city's coastline stretches over 4 km and it is well-known for it's clear blue and turqoise waters. Sea lovers can enjoy all kinds of water sports, and for cyclists, the western beach near the town's marina is connected to the city center by a bike path for cycling in peace.Visitors looking for an exclusive beach will find a number of bays with distinctive beaches such as Verga, Mikri Mandineia, Avia and Kitries outside the city at distances between 8 and 17 kilometers, which offer good tourist facilities and a lively nightlife in the summer months.
Costa Navarino in the southern part of the Peloponnese, with its rich culture of the Messenian coast invites everyone to several golf courses on the peninsula, offering a perfect sport break in the south of Greece.
A memorable place, where you can undertake your first steps on the fairway or practice a few air shots before your game. In the Golf Academy, beginners can learn the basics and experienced players can further improve their skills. You're invited to train with the professionals at the Golf Academy and become the next Tiger Woods. The extensive practice options include: the full-size driving range, putting green and short game practice area.
Taking golf clubs/equipment, as well as sports equipment on Austrian Holidays flights
Book your Kalamata tickets here!