Heraklion
The vibrant Old City of Heraklion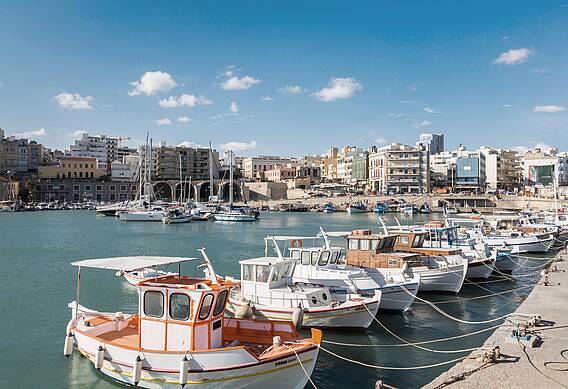 The largest city on the southern Greek island is the right destination for a chilly bathing, sports or family break. Heraklion combines the traditional with the modern and offers everything you could have ever expect from a Greek capital: from modern shopping streets to trendy coffee houses, taverns and restaurants. Whether at the Venetian harbor or in a tavern - life takes place on the streets and squares.
Windsurfing and kitesurfing in Heraklion
Ammoudara is very popular among wind- and kitedurfers due to the strong wind. There are also several wind and kite surfing schools in the region, as well as clubs where you can rent equipment. The Bay of Kouremenos near Palekastro is ideal for windsurfing and is known worldwide. Furthermore, the bays of Falasarna, Elafonisi, Kedrodasos, Stavros, Elounda, Amoudara in Heraklion offer opportunities for windsurfing. Such a great activity as windsurfing is, requires strong, chilly winds which are always predicted near northern Crete beaches for nearly every summer.
With Austrian Holidays you can also take your kite- and windsurfing equipment with you when you register online. You can book surfboards and kiteboards easily and inexpensively for EUR 30 per piece and route via our additional services. If you would also like to take your wind call equipment with you, you can also book it easily and conveniently via our additional services for EUR 60 per piece and route. To find out more about sports luggage and booking options, visit our information page or call our call center at +43 5 176 676 700.
Our Gastronomy tips:Apart from Heraklion town, it is worth a trip to go to the port of Agia Galini (south of Heraklion), where you can enjoy the view of the Libyan Sea with saltwater fish and retsina. Also worth a visit are the villages from the Messara plateau where you can taste great appetizers made from local products in traditional coffee houses.Entertainment:The tourist center in the north (Hersonissos, Agia Pelagia, Stalis) is ideal for going out and spending a nice evening with your family and friends. There you will find numerous small bars, taverns and clubs. There you can also get involved in the Greek world of music where you can be enchanted by the unique "Sala", the steps of the dancers. Hippies still gather in Matala (south of Heraklion). Probably the most famous sights are the palaces that our ancestors left us from this time, built 4000 years ago, both Knossos - seat of King Minos - and Faistos are among the places with the highest number of visitors in all of Crete. But in addition to the architecture of the palaces, visitors can also admire the extraordinary quality and art of the Minoan works in the most important museum in Greece - since it contains the oldest archaeological finds - in the Archaeological Museum in Heraklion.