Chania
The Port City with Venetian Style
The Port City of Chania is the second largest city of the island Crete and was conquered by the Venetians in the 13th century, but lost again to the Turks in the 17th century. In 1908 that the island was reunited with Greece.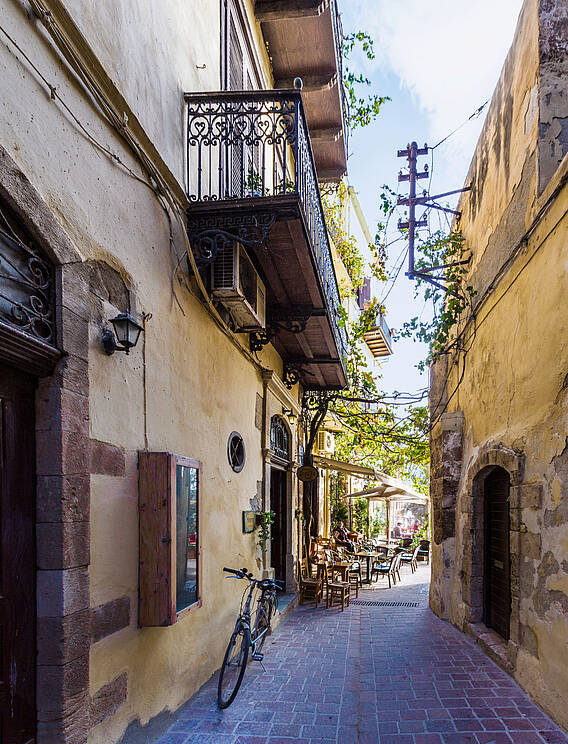 What to see in Chania
Chania is the westernmost city of Crete and one of the most beautiful cities in Greece. Very Venetian influenced, but at the same time also traditional Greek. Because of its "White Mountains" it is an ideal destination for mountain hikers.
# 1 Stroll through the picturesque streets of the old town
The old town of Chania is a delightful labyrinth of colorful, cobbled pedestrian streets, with inviting local shops, small boutiques, traditional taverns, coffee houses and bars that blend perfectly with the cozy backdrop of the old town. In the heart of the city are the most attractions, which are highly recommended in addition to a café visit. After enjoying some Greek coffee, head to the Venetian lighthouse. This is one of the most famous sights in Chania and also part of the Venetian fortress. This is often used in the summer months as a background for selfies, videos and photos. And since the lighthouse can be seen from the city itself, the path is also relatively easy to find.
# 2 Boat trip
An alternative to visiting the city would be for example: a boat tour. If you walked along the water on the way to the Venetian lighthouse, you would not have missed the numerous boats. The boat owners often invite to a one- or two-hour tour. It definitely pays off to look at the city from a different perspective. You can book these boat tours online or at your hotel / resort.
# 3 Try the local food in the Market Hall

The market hall in Chania offers exactly what you can imagine under Greek food. Here you will find all kinds of olives, meat, local pastries, fish or cheesecake.
# 4 A day trip to Elafonisi
The small island of Elafonisi is located in the southwestern part of of Crete. The island has become a very popular destination for day trips among tourists. Just spend a relaxing day on one of the great beaches of Crete. There's nothing like lounging in the sun and walking in the pink sand. Also, don't forget to recharge energy at the local beach kiosks with food and other specialities.