Antalya
Exploring the magnificent Turkish Riviera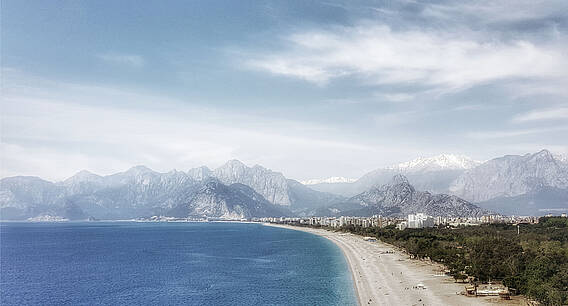 What is like to go visit the Turkish Riviera?

Antalya is the largest Turkish city on the Mediterranean coast. With its world-famous Old Town "Kaleici", which is now a modern area - but also used to be a Roman, Byzantine, Seljuk and then Ottoman city - offers a stunning natural landscape, the most beautiful beaches and a multitude of ancient sites all combined together. The wonderful climate and a lot of culture make this area a holiday paradise. The friendliness of the hosts, good infrastructure as well as the location of the city complete the holiday perfectly.
The Clock Tower in the Old Town of "Kaleiçi"
The approx. 25m. high Clock Tower of Antalya, which was actually intended as a watchtower, is one of the city's landmarks and has been in place since Roman times. The tower was originally intended to protect the northern city gate. Until today, the real function of this tower could not be explained. It is said that it should take on the function of a lighthouse or mausoleum, but researchers and historians are still not agreed on that.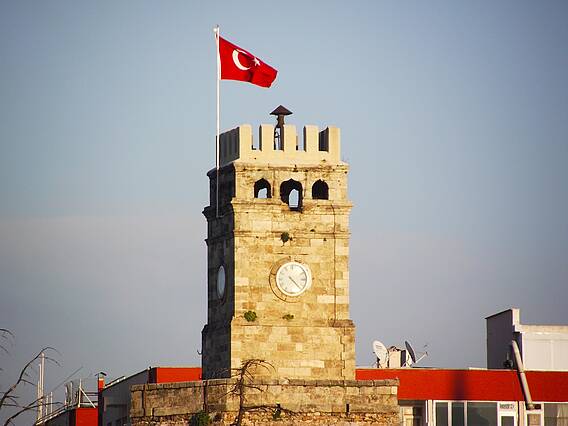 Beaches of Antalya: The natural beach of Kaputaş.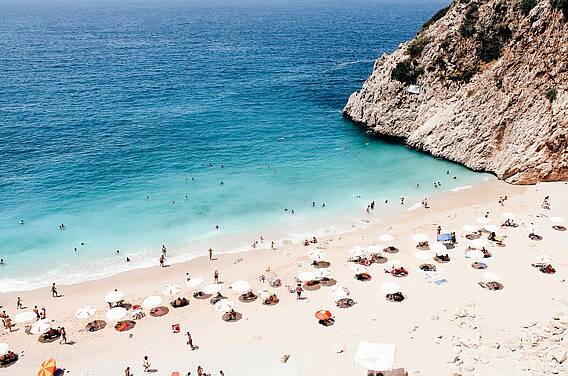 On the way between Kaş and Kalkan there is a 150 m long natural beach called Kaputaş, which extends further to a range of hills in the Taurus Mountains. The beach, which is still untouched and picturesque, has to be reached by a staircase. You descend steeply over many steps that separate the coastal road from the sea. The beach is also very popular with locals who come here in the summer to enjoy nature. But even if you do not come for a swim, the sight of the bay alone is worth a visit.
A trip to the waterfalls and the famous Manavgat Bazaar
Take advantage of the area around the Manavgat Waterfall in the hot summer months as a cool sanctuary to escape the heat. Above the waterfall you may find the famous statue of Atatürk, which together with the waterfall has become a popular tourist destination. Near the Atatürk statue is the famous Manavgat Bazaar, where locals buy everyday goods every Monday. Especially the vegetable and fruit market in the center of the well known bazaar is recommended. You can reach the Manavgat bazaar from Clakli, Side, Evrenseki, Titreyengol and Colakli by public bus - Dolmus.

Manavgat also surprises with typical Turkish restaurants, coffee houses and bars.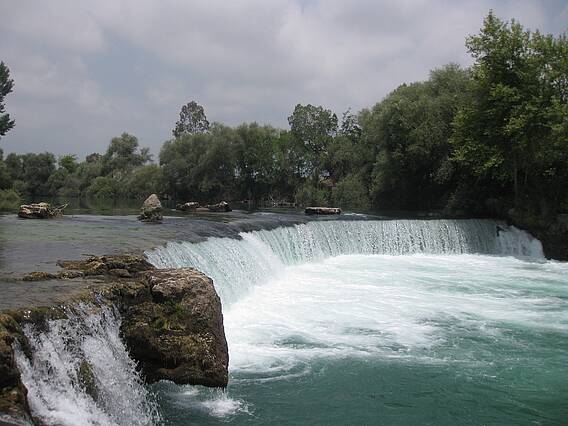 Golf destination Antalya
Holidays on the Turkish Riviera also offer many opportunities for many exciting activities, such as golf, where you get to know the region as well as the country and their people. With Austrian Holidays you can pre-book your golf baggage up to 23 kg for just EUR 30, - one way. Please be aware of the baggage allowance for taking along golf baggage .