Zakynthos
Zakynthos - Greek beach paradise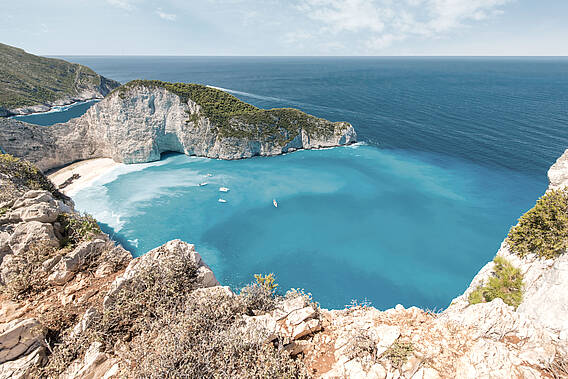 Zakynthos is the third largest Greek island in the Ionian Sea and takes second place after Corfu in terms of visitor numbers. The island is one of the most beautiful of the Ionian Islands and impresses every visitor with its cultural diversity, Greek lifestyle and countless hours of sunshine. In tourism, Zakynthos is known primarily as a bathing paradise. The island also has much to offer - for example, in the quiet north, individual travelers can experience the island's originality or enjoy a boat trip, one of the popular excursion destinations to the "Blue Caves".
What to see
Zakynthos is also called "Fiore of the Levant" - flower of the East, and that not without reason. No matter where the eye goes, the island "floats" in magnificent colors of different plant and flower species.
What to eat
Drive to Bochali, where you can enjoy the view of the lovely Zakynthos town, and try the famous dessert called frygania, or local skordostoumbi garlic, kokinisto (meat in red sauce), and ladotiri (a kind of goat cheese with rabbit meat). Another typical dishes of the island are for example Youvetsi (lamb with noodles) or stifado (veal with onions and tomato sauce), are highly recommended. You can enjoy plenty of traditional and local dishes, prepared in a thousand different ways, in local restaurants, inns and taverns on the island. All of those local dishes, whether made of lamb, pork, chicken or veal, are cooked or braised in the wine.

Bochali is a small village located above the town of Zakynthos. It is really easy to reach and especially recommended for an evening trip because of the breathtaking view of the illuminated streets of Zakynthos. Be aware that while you are eating, it might happen that you it can be very good that you are surprised by a choir with Mandolinos. The people of Zakynthos love to sing!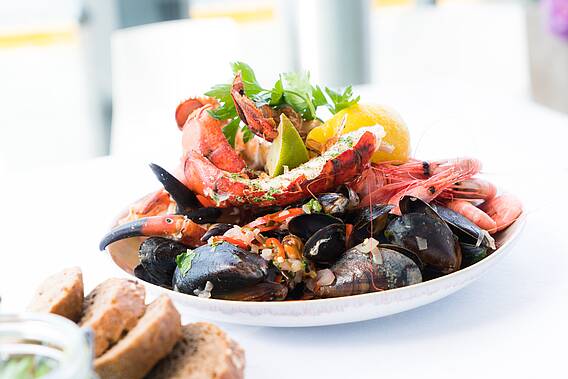 Fish specialties
For fish specialties go to Keri, Vassilikos (loved by Austrians), or to Limnionas. There are plenty of beach bars in Laganas, Kalamaki and Banana Beach in Vasilikos. Laganas, Tsilivi and Kalamaki are the best known beaches by the locals. Our insider tip - take a boat cruise from where you can swim next to the innumerable sea caves of the island. An old shipwreck can be seen in "Navagio".
Visit the Sea Turtle Caretta
Drive to Agios Sostis, cross the small bridge and go to "Cameo Beach" - a wonderful place! Quiet beaches are Dafni and Gerakas since they are in the nature reserve where the sea turtle Caretta lays her eggs. Worth a visit are also the traditional villages such as Loucha and Gyri.