Rhodes
The island of Rhodes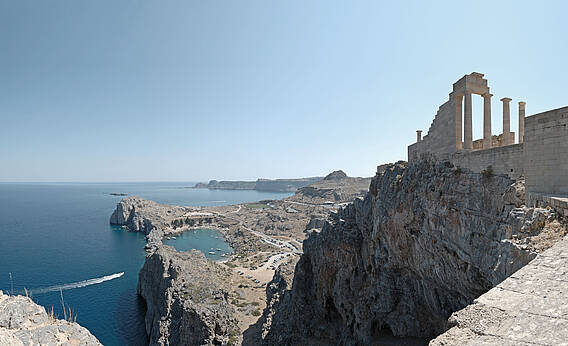 Rhodes is the main island of the Greek archipelago Dodecanese (The Twelve Islands) and attracts its visitors with pleasant Mediterranean climate, stunning beaches as well as a variety of leisure activities. The old town of the capital of the same name is protected by UNESCO as a World Heritage City. The Rhodes old town, surrounded by a four-kilometer fortification wall, offers a piece of history that reaches back to the Middle Ages. The wall encloses various buildings, such as the Grand Master's Palace of the Order of St. John.
Hidden gems
The famous Colossus of Rhodes (one of the 7 wonders of the Ancient World) - a statue that was built on the Greek island between 292 and 280 BC. The statue was a depiction of the Greek Titan Helios and was meant to celebrate their victory over the ruler of Cyprus in 305 BC. In the narrow, winding streets of the old town of Rhodes, within the four-kilometer-long city wall, you may find different architectural monuments of all nationalities and religions. In other parts of the island you will find monuments from the Middle Ages and the Ottoman Period. in the Old Town of Rhodes there are also plenty of beautiful little taverns with Greek live music but alsodifferent gourmet restaurants for every taste.
Endless beaches, pine-clad mountains, traditional villages and archaeological sites make Rhodes one of the most popular destinations in the world. Most beaches in Rhodes are awarded the EU Blue Flag: Tsampika, Fourni, Afandou, Agathi, Kiotari, Kolymbia, Plimiri and the Anthony Quinn beach in the eastern part of the island.
A short trip to Prasonisi, a 3 km ² large, rocky peninsula, which is connected by a sandbank with Rhodes is another tip of ours. The interesting thing about it is, that the sandbank shares two seas - the Aegean Sea and the Mediterranean Sea which makes this place so special. Another great hint would be a boat trip in the mountainous island of Symi, which attracts many visitors to the monastery of Panormitis.