Cagliari/Sardinia
Cagliari - the town with its typical Italian flair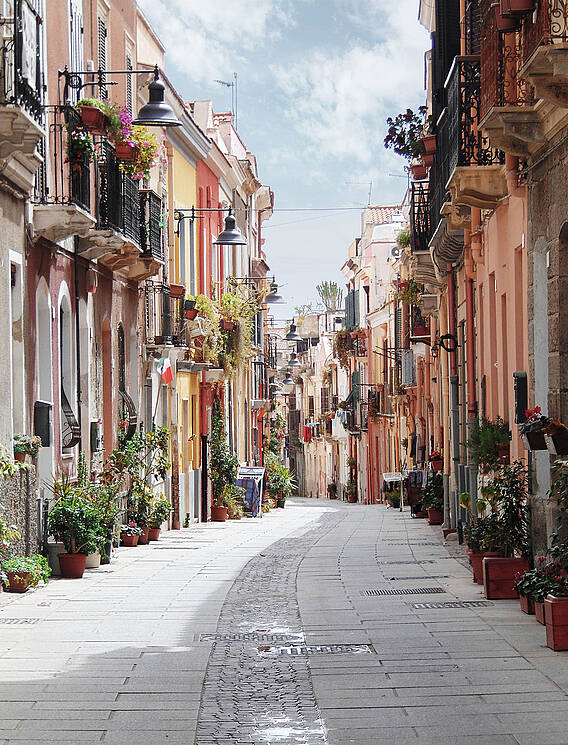 The old town of Cagliari also known as Castello, is located on a hilltop from which one can overlook the entire Gulf of Cagliari. One of the sights of Cagliari is the Bastione San Remy, which was built in 1901. There is a large terrace on the roof with plenty of possibilities to enjoy the great veiw and a cup of espresso at café. For a more authentic "espresso experience", we also recommend the cafés that are located under the arcades along Via Roma, the busy main street of Cagliari.
The island
The island is much more complex than you might think. Not far away from all those well-known coastal towns, there is a lot of originality to discover on the island. If you want to enjoy the beauty of the Sardinian landscape in peace, you should explore the Trenino Verde. Although the landscape appears rough and harsh at first glance, the trained eye will find a multitude of rare plants and animals in this fascinating mountain world. As far as the eye can see, mainly in the northeast of the island, cork oaks stretch their branches into a sky of cloudless blue. What looks absolutely idyllic. It takes around 15 years for the tree trunk to reach the diameter required for the first peeling.
Cagliari with its famous port also serves as an important gateway to the north coast of Africa and of course as a hub for tourism. With over 150 thousand inhabitants, the capital of Sardinia is an important economic region of the island. The capital of Sardinia has always played a great role in the Mediterranean Sea. Archaeological finds were found as early as the Neolithic and during the time of the Roman Empire, Cagliari was also a military base under the reign of Titus Manlius.
Don't miss on our perfect deal