Free Baggage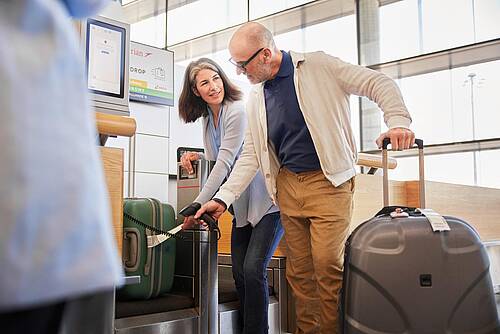 Free baggage allowance
The following baggage allowance regulations apply only to Austrian Holidays charter flights (flight numbers OS 2000-2999, OS 4000-4199 and OS 9000-9999).
Please note the following rules regarding the transport of free baggage:
Piece concept: 1 piece of free baggage
Dimensions: max. 158 cm (width + height + depth = dimensions)
Weight: max. 23 kg (50 lbs.)
Exceptions and special rules
From a length of stay of 28 days, an increased baggage allowance of 30 kg applies on all Austrian Holidays flights, if both the outbound and return flights are operated on flight numbers OS 2000 to OS 2999, OS 4000 to OS 4199 and OS 9000 to OS 9999.
For individual flights, the free baggage allowance may differ from the applicable standard. Therefore, please always check the check-in limit on your ticket and booking confirmation prior to departure.
For babies (infants) and children (ages 2 to 12 years), there is a free baggage allowance of 1 piece of up to max. 23 kg (50 lbs.) allowed.
Collapsible strollers weighing up to 10 kg (22 lbs.) are transported free of charge on all our flights.
For scheduled flights as well as flights to the Maldives, to Mauritius and Cancun differing rules and regulations , in regard to free baggage allowance, apply.
Reservation and Booking
For the required registration, please contact:
Important information regarding free baggage allowance
Please label each piece of luggage with your name and address.
Please refrain from packing the following items in your checked-in baggage: Money, jewelry, computers (such as laptops, tablets or any other kind of computer), photographic film and photo equipment, valuable documents, work papers, passports and/or other forms of identification as well as trade samples/prototypes/patterns for professional use. It is recommended to transport these items in your carry-on/hand luggage.
Please note: for technical reasons, the free baggage allowance of 23 kg is not shown on the boarding pass that you receive online after online check-in. Your baggage allowance is of course included in your ticket and can easily be checked in at the machine or at the counter free of charge.
Special conditions of carriage apply to luggage which exceeds the maximum weight or the maximum baggage dimensions, e.g. music instruments, sport equipment and other excess baggage. Please register this kind of luggage via e-mail contacting specialcases

@

austrian.com .
For more information, please refer to our website categories sports equipment and excess baggage .