Halloween: 50% off on the second person in the same booking
Spookey Halloween Campaign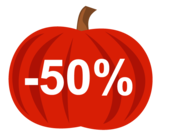 -50% on the second person in the same booking:
Valid on the following Austrian Holidays destinations: Fuerteventura, Funchal & Tenerife
Booking period: 31.10. - 01.11.2019
Travel period: 31.10.2019 - 31.03.2020
Bookable directly through our Austrian Holidays website at

You will be directed to a possibly non-accessible site. Take care. Be careful.

www.austrian.com/holidays or in our Call Center at + 43 5 176 676 700 from Monday - Friday 08.00 AM - 07.00 PM and Saturday and Sunday 08.00 AM - 04.30 PM
Discount will be deducted automatically in the booking process
No need to chase the sun across the globe in search of some sun beams!
Feel free and escape with us to one of the most incredible places in Spain and Portugal. If your mood is falling as fast as the thermometer, indulge yourself some warm, sunny spot-to-be and allow us to chase the seasonal blues away with our Halloween Special!
The holiday starts already on board at Austrian Holidays flights with our world-famous friendly and warm-hearted service: The excellent delicacies from Do & Co, anti-alcoholic beverages as well as sparkling wine, beer, wine, tee, coffee and a selection of juices! Sit back, relax and enjoy your flight with us!
Don't forget about your favourite seat
We recommend to book your seat before check-in and benefit from a wider seat choice on your Austrian Holidays flight. You can choose your favourite seat up to 48 hours prior departure!
Don't miss your chance to sit with your loved ones and book your favourite seat here!