Flug Neapel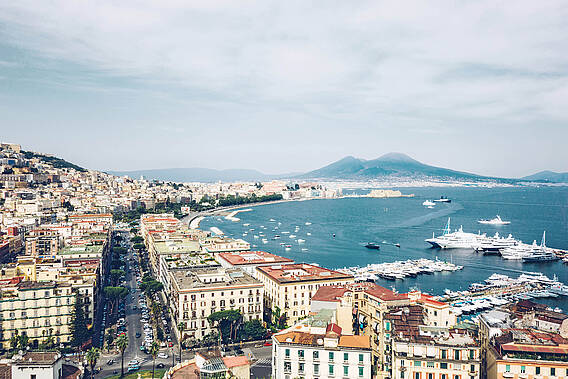 The southern Italian port city on the Gulf of Naples lies at the foot of Mount Vesuvius. The lively city offers numerous attractions that make a visit to Naples definitely worthwhile. Important archaeological sites such as Pompeii are only part of the tourist magnets. The old town of Naples, which is a World Heritage Site, delights its visitors with its narrow streets, numerous churches, chapels and gardens. And if you want to visit the city underground, go to the large labyrinth of caves that is located below Naples.
Those, who come to Naples for the first time, will be captivated by the liveliness of the residents, the apparent chaos, the rattling Vespas and the more or less loud life in the open air. Whether the calls of the market traders or the little gossip from window to window across the alley: Lively and gestural communication is one of the everyday scenes that visitors to the city on Vesuvius often take with them as a lasting memory. The numerous cultural-historical sights and world-class museums are among the most visited in Italy, and the San Carlo Opera House is always a talking point with its impressive productions.Since the spirit of optimism in the early 1990s, numerous palaces and squares have been shining in their old splendor again after extensive restoration, and the winding old town is even part of the cultural heritage of humanity. Everywhere in the city, nice cafes, bars and restaurants invite you to take a break and offer culinary temptations that you can hardly resist. The steadily increasing number of visitors proves that the positive changes have got around in the city. Anyone who takes a few days to visit Naples quickly recognizes a European metropolis that is open to foreigners and whose residents are interested in art, traditional, inventive and, above all, extremely hospitable.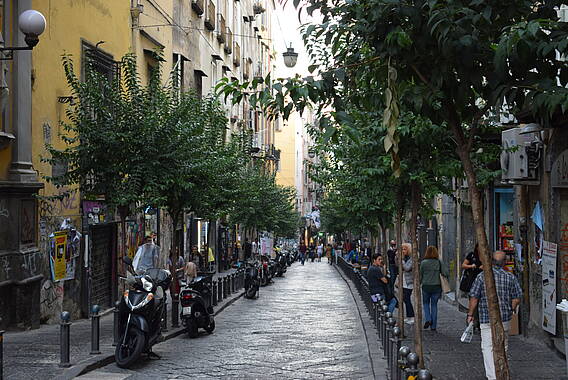 Mediterranean kitchen
The people in Campania are tradition-conscious and above all critical connoisseurs, so that you can except the culinary level to be correspondingly high. They focus less on the finesse of the menu and more on the quality of the products. The main distinguishing feature of the kitchen is that it uses extremely simple ingredients to compose tasty and aromatic Italian dishes. In addition to seafood, various herbs and many types of vegetables such as aubergines, artichokes, courgettes (zucchinis) or fennel, all of which thrive here in the fertile volcanic soil, the tomato is an indispensable component. In addition, of course pizza cannot be missed and it is for sure a indispensable part of the menu in Naples, which is one of the most famous culinary delights here. Every meal is accompanied by a local wine, the lacrima cristi, the tear of Christ, being the best-known variety.
Out top offers for a great trip to Naples
weitere Austrian Holidays Angebote